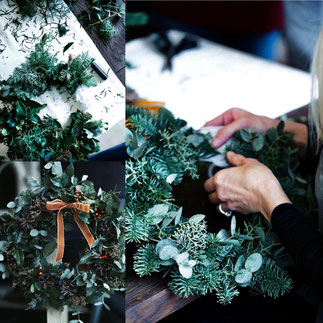 @ Workshop with makiko design studio
庭つくりを通し、自然の美しさ、楽しさを少しでも皆さまへお届けしたい。
日々想いを巡らせ一年を過ごしております。
クリスマスは少し趣向を変え、皆さまと一緒に過ごしたい。
そんな想いからこのクリスマスリースのワークショップを開催することと致しました。
東京会場を帝国ホテルへと移し、今年で4回目を迎えます。
サイズは約25-30cmの大きさのクリスマスリース。
玄関にはもちろんの事、家の中にも飾って頂ける人気のサイズです。
フレッシュな葉、クリスマスに合う実たち、毎年ストーリーを描き、吟味しながら素材を選びこの日を迎えてまいります。
ワークショップでは日々の喧騒から離れ、みなさまがそれぞれの素材を活かして想いのままにつくり上げる『世界でひとつのオンリーワンのクリスマスリース』が出来上がります。一年の締めくくりとして恒例イベントとしてご参加くださっている皆さま。また、初めてのご参加の方も最後まで寄り添い作成のお手伝いをさせていただきます。
*リースは7月まで緑を保ち、その後は秋色になりますが一年を通して飾られる方がほとんどです。
これまでのワークショップの様子は →こちらからご覧くださいませ。
◉開催日        12月8日(金)13:00 〜 17:00 *カフェタイムの会場は17:00までとなります。
◆開催人数       15名様  
◆リース作成   15:30頃まで(約120分予定) 
◆カフェタイム  17:00まで
作成終了後、帝国ホテル17階インペリアルラウンジアクアにて、
コーヒー・紅茶++帝国ホテルオリジナルいちごのショートケーキケーキ、またはワイン(赤・白)をお楽しみ頂きます。
*いちごにアレルギーをお持ちの方はプティフルール(小菓子)への変更も可能です。
*カフェタイムではゆっくりとお過ごし頂き、お疲れが取れた方からご自由にご退席頂いて構いません。
◉会場
帝国ホテル / 東京 
本館4階 松の間 
会場ご案内URL : 
https://www.imperialhotel.co.jp/j/tokyo/banquet/room/matsu.html
◉参加費  ¥14,500- (税込)
お支払いは当日クレジットカードでお支払いいただけます。現金でも承ります。また、開催2週間前には、事前にクレジットカードでお支払い頂けるリンクもご用意致します。
取扱いクレジットカード / Visa・Mastercard・American Express・JCB・Diners Club・Discover
*Return Policy↓
https://www.makiko-designstudio.com/j/shop/withdrawal
◉お申込み方法
メールで承っております。↓
info@makiko-designstudio.com
*ご予約時には当日にご連絡の取れるお電話番号をお知らせ下さい。
◉当日の持ち物
・花ばさみ 
(お持ちでない方はご予約の際にご相談ください。販売用をご案内させて頂きます。)
・石鹸で確実に落ちますが、作成中、手にマツヤニなどがつきます。ご心配の方はエプロン、手袋などをお持ちください。
ご不明な点など含め、お気軽にいつでもメールでのお問い合わせを承ります。
皆様とのご縁を心より楽しみにしております。
makiko design studio
代表 makiko sato
Join us in the festive surroundings of our Christmas wreath-making workshop to get your door ready. It is absolutely joy opening up your creativity to decorate your own festive season. Makiko will give you the guidance one to one in the workshop ( In English too) to make it very special one for you.
It will be made from seasonal spruce, natural materials and foliages. Your wreath will be the perfect size for the front door. *10inch
More details & To book your spot on our workshop, 
email us
info@makiko-designstudio.com
makiko design studio 
---